Rogues Front Office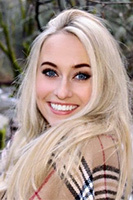 Carly Freda
Marketing & Communications Coordinator
E-mail:
Carly is currently a senior at the University of Nevada, Reno triple majoring in Spanish, Journalism and Political Science. She speaks both English and Spanish.

Carly just spent a semester studying in Madrid, Spain, and is an active member of Sigma Kappa Soriorty. She grew up in Medford Oregon, and moved to Reno to start university.

She loves her cats, Harry Potter, and traveling.