Rogues Front Office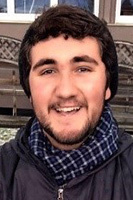 Michael Wexler
Business Development Coordinator
E-mail:
Michael will be a senior at Pepperdine University in the Fall of 2018, where he is majoring in Sport Administration and minoring in Marketing.

Michael is originally from Mission Viejo, CA where he spent the first 18 years of his life. During his sophomore year in college, Michael spent the year studying abroad in Lausanne, Switzerland.

He is an avid lover of sports and hopes one day to work in the MLB. He loves the Indiana Jones trilogy, traveling to new places, and spending time with his family including his corgi.