Rogues Front Office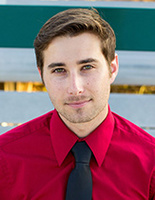 Jonathan Kurman
Broadcaster/Director of Communications & Media Relations
E-mail:
Jonathan moved to the Rogue Valley after graduating from San Francisco State University in 2016, where he witnessed all four major sports teams reach their respective championship games (49ers, Giants, Warriors, and San Jose Sharks).
In his role with the Rogues, he assists local and national media outlets with coverage strategy pertaining to Medford Rogues baseball and events held at Harry & David Field. He also assists in the team's social media branding, graphic design, and with editorial content creation on the team's website. Jonathan is the Rogues full-time broadcaster and travels with the team on the road.
During the off-season, Jonathan lends his services to Radio Medford as the Voice of the South Medford Panthers sports teams.