Rogues Front Office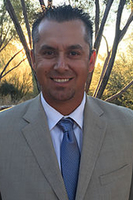 Freddy Sandoval
Director of Baseball Development
Phone:
541-973-2883
E-mail:
A graduate of University of San Diego, Sandoval was drafted in 2004 in the 8th Round by the Anaheim Angels. During his time in the Angel's farm system, he boasted an impressive list of accolades including being named team Captain, named to both mid and post season All-star games, played in the Future's Game and was recognized as Best Defensive Third Baseman two years in a row. Sandoval made his major league debut for the Angels in 2008 against the New York Yankees, and was subsequently awarded the Anaheim Angels Organizational Player of the Year. After retiring in 2011, he was named Mental Skills Coach for the Kansas City Royals Organization (which at that time was groundbreaking position that only a handful of other Major League Baseball teams employed) and was with the Royals for their 2014 ALCS and 2015 World Series victories. In 2016, Freddy left the Royals to spend more time with his family and to launch his business The Choice to Believe; offering professional coaching and consulting services specializing in mental skills and developing mind body connection.

Sandoval recently settled down in the Rogue Valley and is a proud father to two boys. Through his business Choice to Believe, he continues to travel around the world working with Major League players and coaches, Fortune 500 companies, and individuals looking to improve their lives and performance. Along with his new work with the Rogues, he continues to keep a hand in professional baseball as the Mental Skills Coach with the Tijuana Toros in the Mexican League. Read more about the Choice to Believe here.

To book private or semi private lessons with Freddy, contact the Rogues office at 541-973-2883.