MEDIA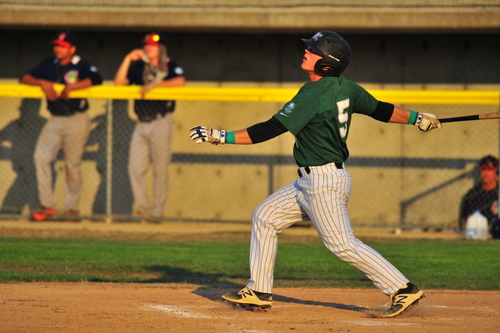 08/02/2017 8:45 PM
MEDFORD, Ore. – The Medford Rogues (39-18) lost to the Chico Heat (35-22) 11-6 on Wednesday night at Harry & David Field in front of 1,127
The Heat jumped out to an early 2-0 nothing lead in the top of the first, but the Rogues punched back in the bottom of the inning.
Leadoff man Scotty Wright (Colorado Christian) doubled, advanced to third on a deep pop fly by Jayden Hanna (Lane CC),and scored on a passed ball.
Later in the inning, Alex Isola (Yavapai) walked, advanced to second on a wild pitch, advanced to third on a wild pitch, and scored on an error by Heat shortstop Eric Robles on a sharply hit ball by Dante Gutierrez (University of San Diego).
The Rogues would get two more in the bottom of the second on the double by Hanna, which scored starting right fielder Taylor Frost (Southern Idaho), and Wright.
The Heat tied the game in the top of the fourth, but Hanna answered again, this time a two run homerun to right field, which again scored Wright.
Chico scored three in the fifth and four in the sixth to take a five run lead.
With one out and runners on the corners in the seventh for the Heat, Robles hit a sharp grounder to Hanna who short-hopped the ball, which sparked a 6-4-3 inning-ending double play.
Wright and Hanna combined to go 4-7 with four RBI and four runs scored. The home run by Hanna was the 25th for this Rogues team this season, a new all-time record.
For the full box score: CLICK HERE