MEDIA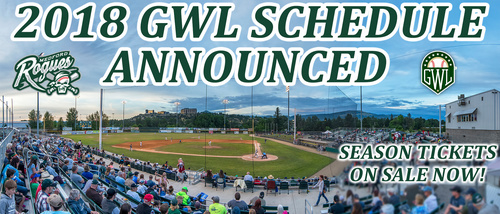 11/13/2017 11:46 AM
NOVEMBER 13, 2017 - MEDFORD, OR: The Great West League released its 2018 schedule, as presented by league commissioner Ken Wilson. Each of the league's six teams will play 60-games in a balanced schedule.
The league season opens Tuesday, May 29th with the defending GWL Champion Medford Rogues at home against the Lincoln Potters. The third game of the series, which will be played on Thursday, May 31st, will be the five-year anniversary of the first game of the Rogues' inaugural season back in 2013.
The Klamath Gems will return to Medford on Sunday, June 10th for the first time since 2014.
The Rogues will host the first rematch of last year's GWL Championship Series against the Chico Heat, starting on Friday, June 15th.
The newest team in the GWL, the San Francisco Seals, will play in Medford for the first time in their club's history on Monday, July 9th.
The GWL All-Star Game will be played on Monday, July 23rd at a site to be announced.
The regular season concludes on Saturday, August 4th. The top four teams will advance to post-season play, with a pair of best-of-three playoff series beginning Monday, August 6th and ending Wednesday, August 8th. The best-of-three GWL Championship Series, between the two winning teams in the first round, opens Friday, August 10th and concludes Sunday, August 12th.
For more information, please visit the GWL website.
For the full 2018 GWL schedule, please CLICK HERE.
---
Season tickets are on sale NOW! Contact us on Facebook, over the phone at 541-973-2883, or right here on our website!