MEDIA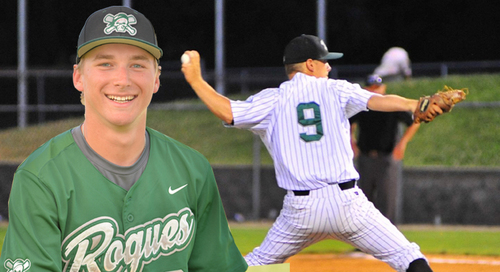 11/15/2017 9:33 AM
NOVEMBER 15, 2017 - MEDFORD, OR: 2017 GWL champion and Medford native Ryan Carle will return to the team for the 2018 season. The southpaw finished the 2017 season with a 3.92 ERA and 11 strikeouts in 18.1 innings pitched.
"I'm really excited to have the opportunity to play at home again. Summer nights at Harry & David Field are really special, and I can't wait to bring home another Championship for the Rogue Valley," said Carle.
Carle has been playing baseball for Medford since he was five years old. He played for the Medford National Little League team for seven years. In middle and high school, he played for South Medford, and made the varsity team his sophomore year.
Ryan has been a part of the Rogues organization since 2016, where he was a member of the front office as an intern. In 2017, he was signed as an active player to help bolster the bullpen. While he helped the Rogues win the 2017 GWL Championship, he continued to work with front office staff to organize Camp days and other community outreach events.
Scott Carle, Ryan's dad, is the former baseball coach at Crater High School and current assistant coach for the South Medford High School varsity baseball team.
Ryan is currently playing in his second season for the Pacific University Boxers in Forest Grove, Oregon.