MEDIA
03/21/2018 12:27 PM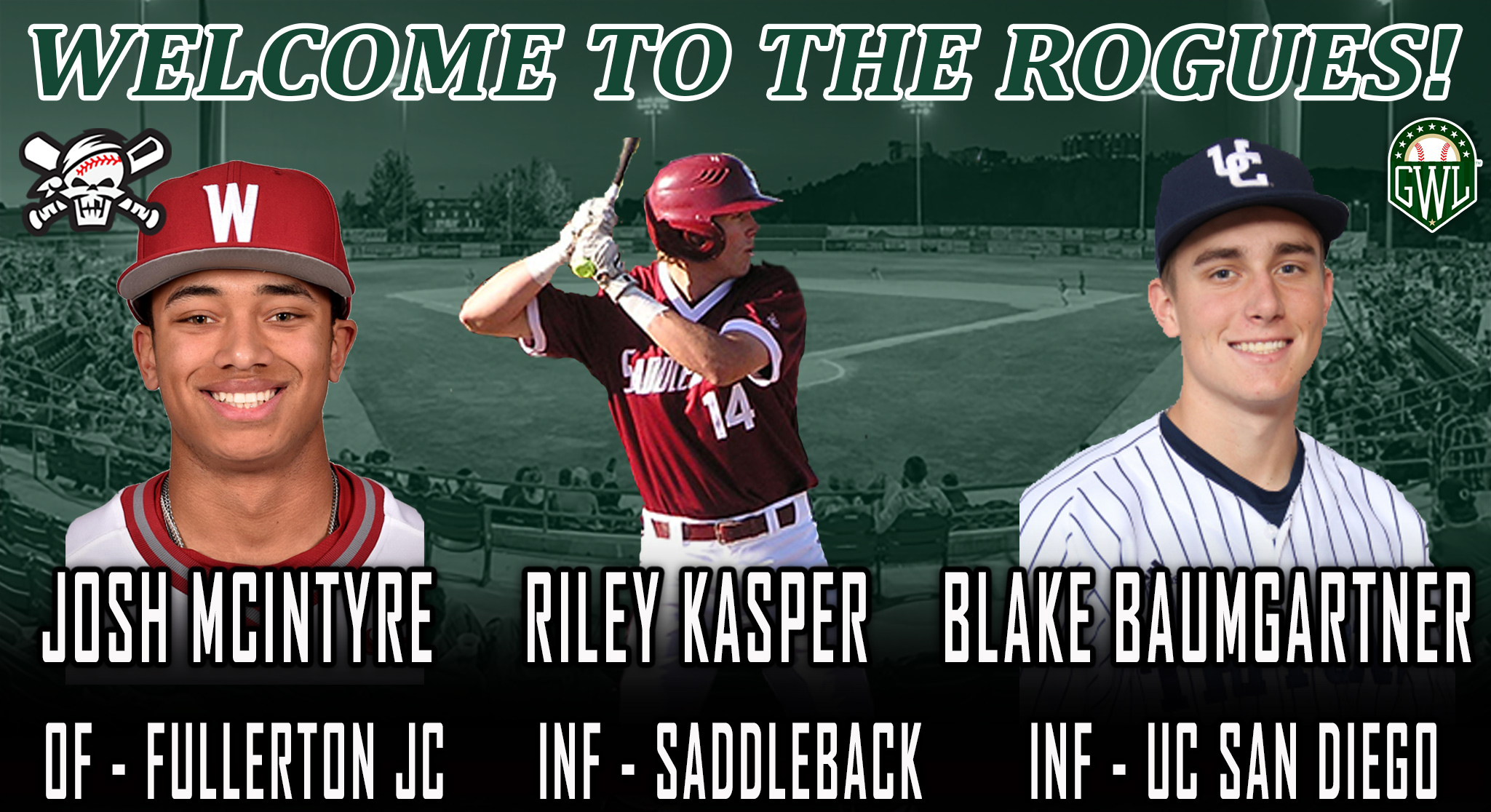 MEDFORD, Ore. – The 2017 GWL Champion Medford Rogues have announced the signing of outfielder Josh McIntyre from Fullerton JC and infielders Riley Kasper from Saddleback College and Blake Baumgartner from UC San Diego.
McIntyre is a sophomore from Everett, Washington, and is off to a blistering start. He has 10 hits, six RBI, and nine runs scored over 15 games for Fullerton JC Hornets. In 2016, he attended Everett Community College, and was named to All-Northwest Athletic Conference First Team after hitting .310 with five doubles, two triples, one home run and 21 RBI with scored 20 runs and stole eight bases. McIntyre's uncle is MLB Hall of Famer Frank Robinson, who played from 1956-76, and is the only player ever to win an MVP in both the National and American Leagues.
Riley Kasper is getting a lot of work in for the Saddleback Gauchos. In 22 games, he has 21 hits, four doubles, nine RBI, and 20 runs scored. Kasper went 1-2 with a run scored in the Gaucho's 3-1 win over Josh McIntyre and the Fullerton JC Hornets. Prior to playing for Saddleback College, Kasper played at Capistrano Valley High School, where he lettered in baseball and football before graduating in 2017. While at CVHS, Kasper was the athlete-of-the-year, an All-CIF selection in baseball and an all-conference selection in football. His uncle, Kevin, played in the Giants organization from 1989-93.
Baumgartner is a redshirt freshman for UC San Diego and is studying psychology. He's in the heads of opposing pitchers right now. In seven games for the Tritons, he has five hits, three doubles, a home run, six RBI, five runs scored, and nine walks. His senior year of high school, he hit .350 with 35 hits, 22 RBI, and 26 runs scored for West Ranch High School in Valencia, California.
---

The Rogues kickoff their defense of their 2017 GWL championship starting on May 29th with a three-game series against the Lincoln Potters at Harry & David Field. For more information about 2018 season ticket packages, mini plans and flex plans please call 541-973-2883 or visit www.medfordrogues.com/tickets/season-tickets

To keep up with all the latest team news and information, like the Medford Rogues on Facebook and follow us @MedfordRogues on Twitter and Instagram.