MEDIA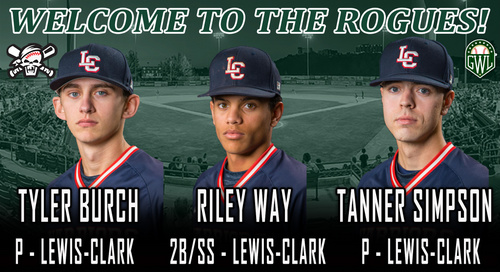 03/27/2018 11:12 AM
MEDFORD, Ore. – The 2017 GWL Champion Medford Rogues have announced the signing of pitchers Tyler Burch and Tanner Simpson, and middle infielder Riley Way from Lewis-Clark State. All three players play under Rogues Assistant Coach Anthony Balderas.
Tyler Burch has busted out for the Lewis-Clark State Warriors this season. He's 6-1 with a 2.59 ERA and 39 K's in 48.2 innings pitched, which already exceeds his career totals at Lewis-Clark coming in to this season. In nine starts, he's allowed only eight nine base hits to opposing hitters. "Burch is going to be a strong dominate right hander for us with lots of big game experience. He's started in 2 NAIA World Series games and has two National Championships underneath his belt. I'm really excited to see him lead our staff this summer," said Balderas. The Warriors are 7-2 this season when Burch pitches.
Tanner Simpson had an outstanding season on the mound as he posted an 8-2 record with a 1.50 ERA in 2016. In 83.2 innings, he struck out 56 and walked only 18. He allowed more than two earned runs just once and went at least five innings in each start. "Tanner Simpson is another strong right hander that we just got off the DL list. He's finally back on the mound from having Tommy John surgery last year. He is a very hard worker and loves to compete. It's going to be exciting to see Tanner go after anyone who steps in that batter's box," said Balderas.
Freshman Riley Way is making waves in his first year at Lewis-Clark. In 26 games, Way is batting .281 with 27 hits, eight doubles, 29 runs scored, 17 walks, and just 11 strikeouts. Way is also 3-3 in stolen base attempts. "Riley Way is a very talented freshman and I am very happy we get to have him this summer. He's an all-around great player and has skill you can't teach players. Can't wait to see this freshman breakout of his shell this summer," said Balderas. As a senior for Lewiston High School, Way hit .467 with an on-base percentage of .568 and a slugging percentage of .600.

---
2018 Flex Packs and Mini Plans are on sale NOW and Single Game Tickets go on sale April 16th! To keep up with all the latest team news and information, like the Medford Rogues on Facebook and follow us @MedfordRogues on Twitter and Instagram.
For more information about 2018 season ticket packages call 541-973-2883 or visit www.medfordrogues.com/tickets/season-tickets