MEDIA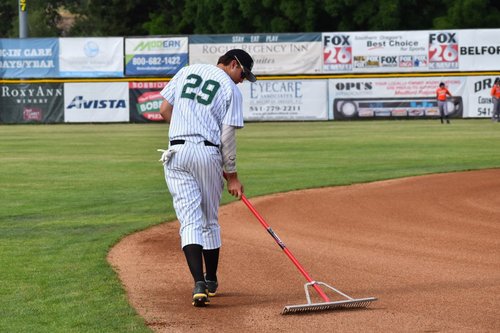 06/02/2018 11:44 PM
MARYSVILLE, Ca. – The Medford Rogues (3-2) defeated the Yuba-Sutter Gold Sox (1-2) 11-6 on Saturday night at Colusa Casino Stadium on Fireworks Night. The Rogues have scored at least 10 runs in three of the first five games.
Cole Elvis (UC - Berkeley) led off the second inning with a single, Klamath Falls native and Henley Hornet standout Chase Fernlund (Feather River) was hit by a pitch, and Austin Healy (Shasta College) walked to load the bases.
Riley Kasper (Saddleback College) got the scoring started with an RBI sac fly to score Elvis.
Chad Pike (IMG Academy) poked a ground ball through the hole between first and second to score Fernlund.
Josh McIntyre (Fullerton JC) singled to move Pike over to third, who scored on a wild pitch.
In the 4th inning, Pike, the switch hitter, batted from the right side this time. He poked a ground ball through the hole between short and third to score Healy, who walked to lead off the inning.
Tanner Cantwell (Montana-State Billings) made his first start on the mound for the Rogues, he allowed just two hits and one earned run, and struck out four over four innings of work.
Elvis and Fernlund singled to lead off the fifth, and then Healy drove them both home on a triple down the right field line.
Ashland native Shea Scott (IMG Academy) grounded out to third to score Healy.
Mitch Neunborn (North Iowa Area CC) got his first at bat as a Medford Rogue when hit pinch hit for Joe Bath (Lewis-Clark State) in the eighth inning. With a runner on first, Neunborn thundered a ball into the left field netting for a two run blast.
Matthew Chiono (Undecided) struck out four in 1.2 scoreless innings of relief and picked up the win.
Pike made his debut on the mound in the ninth inning, he struck out the side.
After the first, at least one run was scored in every inning.
For the full box score: CLICK HERE
The Rogues will play the final game of three-game series against the Yuba-Sutter Gold Sox on Sunday. They will then move on to play a two-game series against the San Francisco Seals at Alameda College starting on June 4th.
The Rogues will return home on Sunday, June 10th for Country Night, featuring a post-game concert by Fogline. It is also a Fred Meyer Family Fun Sunday. Fans can get four tickets, four hot dogs, and four sodas for just $44 for Sunday home games. For each ticket package sold, the Rogues will donate $4 to Access, as part of their Zero Waste Zero Hunger campaign.
You can watch every pitch of every game this season online for free on TableRockSports.net