MEDIA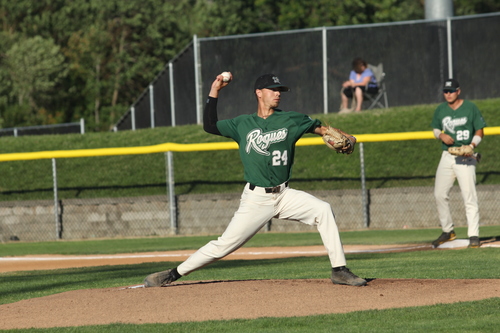 07/06/2018 9:03 PM
MEDFORD, Ore. – The Rogues left 14 runners on base, including six in scoring position in tonight's loss to the Yuba-Sutter Gold Sox in 10 innings.
Starting pitcher Tanner Simpson (Lewis Clark State) struck out four over five scoreless innings but had to settle for the no decision.
Rogues first baseman Daniel Nist (Cal State Bakersfield) drove in the first and last runs of the game, an RBI sac fly in the second inning to score Blake Baumgartner (UC San Diego), and a game-tying RBI sac fly in the ninth to score Shea Scott (DeAnza College).
Josh Winkler (Folsom Lake College) started the game at third base for the Gold Sox, and then came on in relief to pitch the final three innings. He hit the go-ahead triple to score Mike Schoenberger and Elijah Smith, both unearned, in the top of the 10th inning.
The Rogues' 1-2-3 hitters combined to go 0-14 tonight.
For the full box score: CLICK HERE
Tomorrow is Yoga on the Field and Paint the Park Pink Night at Harry & David Field! Join Rogues players, coaches, and staff on the field for yoga lead by Rasa Yoga Studios from 9:30- 10:30 a.m. On-field yoga costs just $7, and all proceeds will benefit the Leila J. Eisenstein Breast Center! You can pay during registration that morning at 9 a.m. OR you can buy our Yoga + Ticket package online which allows you to participate in Yoga AND go Saturday's game, Paint the Park Pink Night, for JUST $10!
We'll be painting the bases and foul lines pink, honoring breast cancer survivors during the ceremonial first pitch, and your Rogues will be wearing special Pink jerseys, which will be up for auction during the game. 100% of the proceeds from the auction benefits the Leila J. Eisenstein Breast Center.
Tickets for Yoga on the Field and Paint the Park Pink Night are available HERE
You can watch every pitch of every Rogues game this season online for free on TableRockSports.net