MEDIA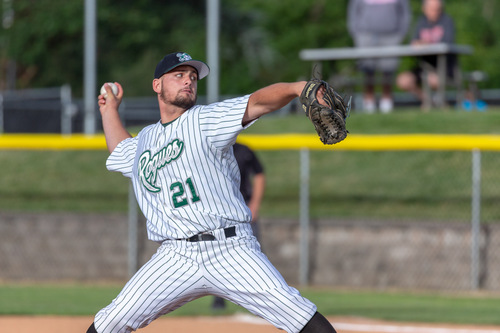 07/17/2018 9:27 PM
Article By: Jonathan Kurman
CHICO, Ca. – Chico Heat starting pitcher Shane Gustafson had pitched 14 consecutive scoreless innings before Mitch Neunborn (North Iowa Area CC) hit a two-run home run to score Joe Bath (Lewis-Clark State). The Rogues continued to tack on runs in the fourth, fifth, sixth, and ninth innings to beat the Heat, 9-4.
Kolby Button (Shasta College) pitched four scoreless innings in relief and picked up his fourth win of the year.
The Rogues scored two runs in the fifth inning without registering a hit.
Cole Carder (University of Antelope Valley) had a big two-run single in the top of the ninth inning to tack on a couple insurance runs.
The Heat scored all four of their runs in the third inning.
For the full box score: CLICK HERE
The series will concluded tomorrow, first pitch at 7:05pm.
You can watch every pitch of every game this season online for free on TableRockSports.net
The Rogues will return home Thursday, July 19th, for the final Throwback Thursday of the year. The Rogues are honoring the original Medford Rogues, who played in 1950-51 by wearing special Throwback jerseys, which will be up for auction during the game. The Rogues are also throwing back the prices of beer and concessions, including $1 hot dogs, popcorn, nachos, soda, and more.
For tickets to our final Throwback Thursday: CLICK HERE
This Friday is another KMVU Fox26 Fill the Park Friday. Fans can visit the following local businesses to pick up FREE tickets for the Rogues next home game on Friday, July 20th.
Mary's BBQ Place - 841 E. Pine Street, Central Point, (541) 727-7079
Mark-It 62 - 8380 Crater Lake Highway, White City, (541) 879-3065
Grange Co-Op - 2531 South Pacific Highway, Medford, (541) 772-4730
Arby's - 41 E. Stewart Avenue, Medford (541) 779-4294
For more information on KMVU Fox26 Fill the Park Friday: CLICK HERE
This Saturday is Christmas in July at Harry & David Field. The Rogues invite fans to bring canned goods to the game to receive $1 off the price of admission for each can donated (limit 12). The cans will be donated to Access in Medford. The Rogues players will be wearing special Christmas Jerseys, which will be up for auction during the game. 100% of the proceeds from the auction will benefit Access in Medford.