MEDIA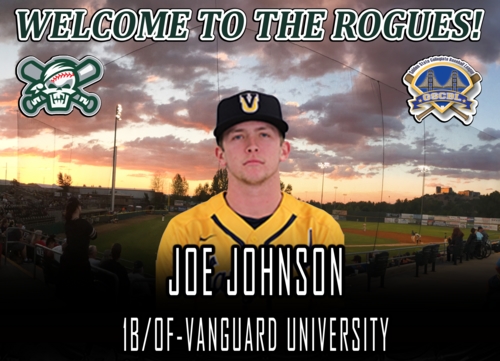 04/25/2019 6:17 PM
Article By: Jonathan Kurman
MEDFORD, Or -- The Medford Rogues have signed Medford native Joe Johnson for the 2019 season. Johnson played baseball for St. Mary's High School under Rogues head coach Sean Gallagher. In the 2017, Johnson hit a go-ahead three-run home run in the semifinals against the defending state champion Stanfield to send the Crusaders to the State Championship game, which they would go on to win. Johnson currently plays for Vanguard University.
"Joe Johnson is one of the most exciting players I have had the privilege to coach and watch play the game," said Gallagher. "He attacks the game with such ferocity that it is hard not to keep your eyes on his every movement on the field. He is a plus plus defensively and gets the most out of his 5'11 175 lb frame as he hits both for average and power. He is the quintessential example of what can happen to a ballplayer when he dreams big and is willing to work tirelessly towards his goals."
Johnson has been playing Baseball for 16 years. In 2015-16, Johnson was named to the All-USA Oregon Baseball Team and named All-state Series Most Valuable Player. He also earned a Golden State Athletic Conference Gold Glove. Johnson enjoys eating Mexican food, his favorite movie is Django Unchained, and he roots for the Boston Red Sox.
In 2019, Johnson has amassed a .281/.381/.533 triple slash line for the Vanguard Lions, including 13 doubles, nine home runs, 34 RBI, 12 stolen bases, and an impressive 1:1 Walk to strikeout ratio (27 walks, 27 strikeouts) in 167 at bats.
Johnson is one of only a handful of players in the history of the game to hit four consecutive home runs in one game, with one of them being a grand slam. He did that earlier this year at Vanguard.
---
The Golden State Collegiate Baseball League is a 8-team, wooden bat collegiate summer baseball league founded in 2012. The GSCBL is a showcase for top college-level players, giving professional baseball scouts a chance to see prospective pros playing against each other.
The GSCBL brings highly competitive collegiate baseball to mid-sized communities throughout the West while featuring affordable family entertainment. The GSCBL will have franchises in California (Alameda, Petaluma, Sacramento, San Jose, San Francisco, Yuba-Sutter), Nevada (Reno) and Oregon (Medford). These franchises are the backbone of the Golden State League and its foundation now and in the future. All teams affiliated with the GSCBL showcase some of the top talent in the country.