MEDIA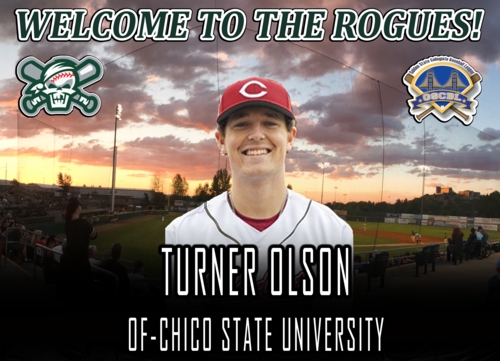 05/02/2019 5:31 PM
Article By: Jonathan Kurman
MEDFORD, Or -- The Medford Rogues have signed outfielder Turner Olson for the 2019 season. Olson currently plays for the Chico State Wildcats, where he batted .307 with 29 RBI and 17 runs scored in 140 at bats this season.
Olson was an All-CCAA Honorable Mention as a true freshman in 2018. He ranked third on the Wildcats in on-base percentage, and fourth in batting average and slugging percentage. He had 11 multi-hit games in 2018. Olson is also a member of the Chico State Student-Athlete Advisory Committee (SAAC).
A 2017 graduate of Monte Vista High School in Danville, Olson helped the Mustangs win the 2017 East Bay-Mountain League title and reach the North Coast Section Division I championship final.
Olson enjoys fishing, claims to be very good at golf, and always wears eye black and wrist tape during games. His biggest non-sports thrill is "positively influencing others."
---
The Golden State Collegiate Baseball League is a 8-team, wooden bat collegiate summer baseball league founded in 2012. The GSCBL is a showcase for top college-level players, giving professional baseball scouts a chance to see prospective pros playing against each other.
The GSCBL brings highly competitive collegiate baseball to mid-sized communities throughout the West while featuring affordable family entertainment. The GSCBL will have franchises in California (Alameda, Petaluma, Sacramento, San Jose, San Francisco, Yuba-Sutter), Nevada (Reno) and Oregon (Medford). These franchises are the backbone of the Golden State League and its foundation now and in the future. All teams affiliated with the GSCBL showcase some of the top talent in the country.