MEDIA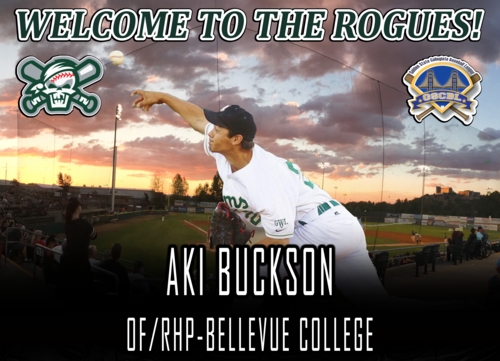 05/07/2019 9:21 AM
Article By: Jonathan Kurman
MEDFORD, Or -- The Medford Rogues have signed Aki Buckson from Bellevue College for the 2019 season. Buckson was named to the Great West League All-Star team for the Klamath Falls Gems in 2018.
Buckson did a little bit of everything for the Gems last summer. He batted .341 with three doubles and two home runs in just 14 games. Buckson also pitched 28.2 innings, accruing a 4.39 ERA with 19 strikeouts.
"Aki Buckson has pure athleticism and tremendous bat speed," said Rogues head coach Sean Gallagher. "Pitching in the upper 80's with true command of all four of his pitches, he will be a true two-way player for the Rogues this summer. He is being heavily recruited right now as he is in transfer status, and I am excited to see what he will do for us on the field this summer."
Buckson played baseball for Central Kitsap High School in Silverdale, Washington, where he posted a batting average of .371 his senior year with a team-leading nine doubles and 28 RBI. Buckson batted .500 with runners in scoring position and was an All-Narrows League 3A first-team pick in 2017.
---
The Golden State Collegiate Baseball League is a 8-team, wooden bat collegiate summer baseball league founded in 2012. The GSCBL is a showcase for top college-level players, giving professional baseball scouts a chance to see prospective pros playing against each other.
The GSCBL brings highly competitive collegiate baseball to mid-sized communities throughout the West while featuring affordable family entertainment. The GSCBL will have franchises in California (Alameda, Petaluma, Sacramento, San Jose, San Francisco, Yuba-Sutter), Nevada (Reno) and Oregon (Medford). These franchises are the backbone of the Golden State League and its foundation now and in the future. All teams affiliated with the GSCBL showcase some of the top talent in the country.