MEDIA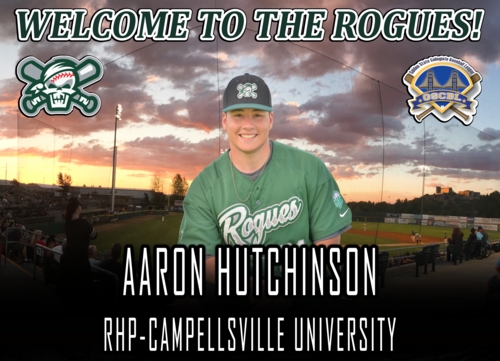 05/10/2019 3:20 PM
Article By: Jonathan Kurman
MEDFORD, Or -- The Medford Rogues have signed pitcher Aaron Hutchinson for the 2019 season. The Phoenix, Oregon native returns to the Medford Rogues after winning the Great West League Championship in 2017. He currently plays for Campbellsville University.
Hutchinson was a key bullpen arm for the 2017 Great West League Champion Medford Rogues. "Hutch" pitched 39 innings for the Rogues in the summer of 2017, with a 2.54 ERA and 31 strikeouts to just nine walks allowed. He also earned two saves.
"I'm excited to be back playing for the Rogues with some hometown boys and to be back playing at Harry & David Field, with its great atmosphere and fan base. I am also excited to have my games called by Jonathan Kurman again." said Hutchinson.
As a starter for the Campellsville Tigers, Hutchinson recorded season-highs in innings pitched and strikeouts on his way to his fifth win of the season back on April 23rd, and fourth straight win in as many starts. Hutchinson went 5.2 innings allowing two runs, one earned, on six hits with one walk and eight strikeouts.
Hutchinson was a standout at Phoenix High School, where he was selected as Second Team All-State Pitcher, First Team All-Conference Pitcher, and Second Team All-Conference Shortstop. He is currently majoring in Sports Medicine at Campbellsville University.
---
The Golden State Collegiate Baseball League is a 8-team, wooden bat collegiate summer baseball league founded in 2012. The GSCBL is a showcase for top college-level players, giving professional baseball scouts a chance to see prospective pros playing against each other.
The GSCBL brings highly competitive collegiate baseball to mid-sized communities throughout the West while featuring affordable family entertainment. The GSCBL will have franchises in California (Alameda, Petaluma, Sacramento, San Jose, San Francisco, Yuba-Sutter), Nevada (Reno) and Oregon (Medford). These franchises are the backbone of the Golden State League and its foundation now and in the future. All teams affiliated with the GSCBL showcase some of the top talent in the country.