MEDIA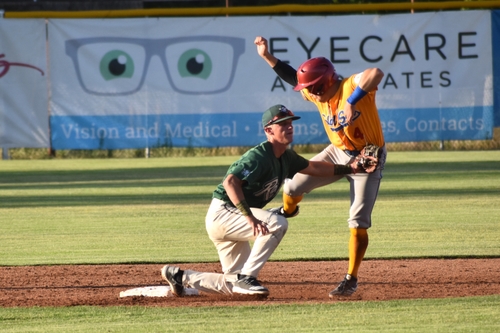 06/11/2019 9:08 PM
Article By: Jonathan Kurman
MEDFORD, Ore. – The Medford Rogues (11-1) lost to the Yuba-Sutter Gold Sox (6-4) 15-6 on Tuesday night at Harry & David Field.
The Rogues franchise record 11-game winning streak came to an end tonight. The Gold Sox loaded the bases with nobody out in the second inning before starting pitcher Austin Rice (Whitworth University) got Isaac D'Agostino to ground back to the mound. Rice went home for one out, and then catcher Marshal Luiz (Jackson State University) threw out D'Agostino at first. The Rogues nearly got out of the bases loaded, nobody out jam, but Brandon Motherall walked to load the bases for Sox first baseman Tyler Carpenter. He belted a grand slam to give the Gold Sox the lead, which they would not relinquish.
Omar Ortiz (Vanguard University) hit a three-run home run in the sixth inning, his first of the year.
Joe Johnson (Vanguard University) hit a solo home run to lead off the eighth inning.
Shady Cove native Trae Perkins (Feather River College) pitched 3.2 innings in relief and struck out five.
For the full box score: CLICK HERE