MEDIA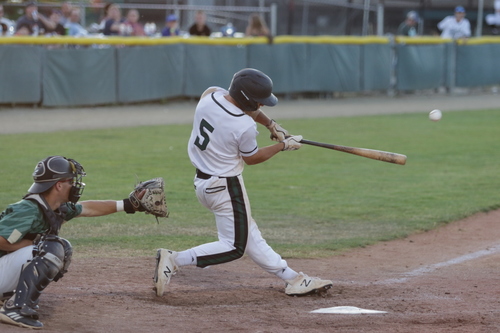 06/25/2019 10:22 AM
Article By: Jonathan Kurman
ALAMEDA, Ca. – The Medford Rogues (20-3) defeated Top Speed Baseball (17-4) 9-8 in game 1 of a doubleheader at Pat Bail Field on Wednesday night.
Starting pitcher and Grants Pass native Chris D'Amico (Presentation College) allowed a pair of singles to start the game but induced a ground ball double play to get it to just one runner on with two outs. However, a two-RBI double by JC Santos opened the door for Top Speed, who batted around in the first inning and brought five Speedos home. He would go five innings and not allow a run across after the first.
Aided by a pair of errors, the Rogues got two back in the top of the second inning. Shortstop Caleb Broughton (Bucknell University) led off the top of the sixth inning with a triple and scored on an RBI sacrifice fly by left fielder Joe Johnson (Vanguard University).
The Rogues scratched and clawed their way back to tie the game in the seventh when Broughton flied out to right field to score Tyler Hollow (Dixie State University).
Medford then took the lead in the eighth on a two-RBI double by Jesse Spangler (Presentation College), which scored Tre'Von Dorsey (Undecided), who was pinch running for Maxx Mahon (Vanguard University), and Brice Foster (Menlo College).
With the game tied in the top of the ninth inning, right fielder Aki Buckson (Vanguard University) singled up the middle. Broughton then doubled to center to drive in the go-ahead run to give the Rogues a 9-8 lead.
Brice Foster picked up his fifth win of the year, but it was not easy. Foster loaded the bases with only one out in the bottom of the ninth, but he struck out Harry Witmer-Dukes and got Tyler Amedure to fly out to right field to end the game.
For the full box score: CLICK HERE
The top two teams in the Golden State Collegiate Baseball League will play game two of the doubleheader in about 10 minutes from the release of this game recap, and then wrap up the series on Thursday at 6pm. The Rogues will then travel to Marysville, CA for a four-game series against the Yuba-Sutter Gold Sox. After the road trip, the Rogues will host the Redding Ringtails, a semi-pro team from northern California for a two-game series starting Tuesday, July 2nd. Tuesday, July 2nd is Red, White, and Blue Night at Harry & David Field, featuring the largest post-game fireworks show in Medford Rogues history. Bleacher tickets are just $2 for every Tuesday home game. Tickets are available online at MedfordRogues.com.