MEDIA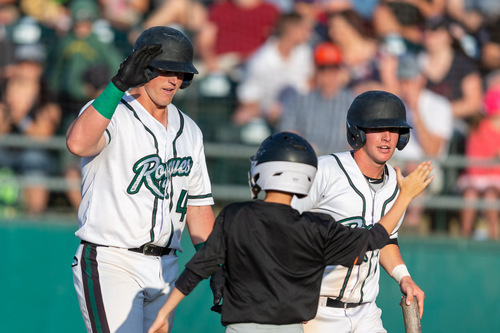 07/02/2019 8:21 PM
Article By: Jonathan Kurman
MEDFORD, Ore. – The Medford Rogues (23-7) defeated the San Francisco Seals 12-4 at Harry & David Field on Tuesday, July 2nd.
2,377 Rogues fans packed into Harry & David Field to await the return of the Medford Rogues from their 6-day, 8-game road trip and the biggest post-game fireworks show in franchise history.
The Rogues got the fireworks show started early. With the bases loaded in the bottom of the first inning, Tyler Hollow (Dixie State University) poked a single to left to drive in Turner Olson (Chico State). Ben Kiefer (University of Northern Alabama) singled up the middle to score Omar Ortiz (Vanguard University). The inning was capped off by a bases-clearing double to right-center off the bat of catcher Ryan Gamboa (Academy of Art University).
The fans at Harry & David Field wanted an encore, and they got one. The Rogues loaded the bases in the bottom of the second inning for Maxx Mahon (Vanguard University), who hit a grand slam over the left field wall to break the game wide open.
Mahon was not satisfied with just one home run. With Olson aboard in the seventh, Mahon crushed his second home run of the game over the right field wall.
For the full box score: CLICK HERE
After playing a one game, non-league series at Harry & David Field with the Redding Ringtails, a semi-professional team from northern California, the Rogues will welcome Top Speed Baseball to Medford for the first time this season. The three-game series between the top two teams in the Golden State Collegiate Baseball League and two of the top 25 summer collegiate baseball teams in America will begin on Friday, July 5th.