MEDIA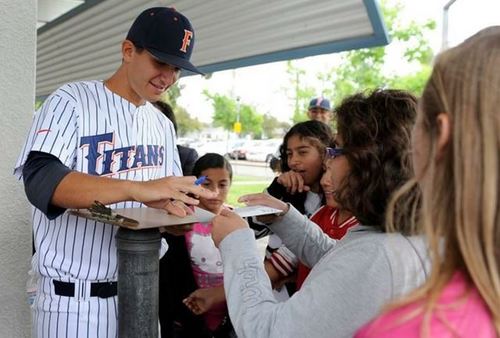 04/13/2017 3:55 PM
MEDFORD, Ore. – The Medford Rogues welcome back former Rogues pitcher Christian Coronado as a member of the 2017 coaching staff.
Coronado played for the Rogues in 2013 and will assist Head Coach Josh Hogan and Assistant Coach Jeff Lyle in the team's second campaign as a member of the Great West League.
"I'm excited to get back to Medford," Coronado said. "I'm looking forward to joining a great coaching staff and helping the Rogues win ball games."
Coronado is an assistant coach at Hemet High School (CA). He served as the pitching coach for the last two years and helped lead Hemet to a 2015 CIF-Southern Section Div. 5 state championship.
As a player, Coronado pitched at Cal State University, Fullerton from 2010 thru 2014. He also played summer baseball in Klamath Falls for the Gems in 2012.
Coronado earned a Bachelor's degree in Sociology from CSUF. He's currently attending National University and pursuing a teaching credential in Special Education.
Don't miss any of the action this summer! The Medford Rogues celebrate their fifth season of baseball at Harry & David Field, opening the 2017 season against Yuba City on May 30th. Purchase your season tickets today: CLICK HERE.
Media Inquiries:
Brian Schnee, Broadcast@MedfordRogues.com & (541)-973-2883
ABOUT THE GREAT WEST LEAGUE
The Great West League is one of the premier summer collegiate wood bat leagues in North America, providing a professional, minor league-like atmosphere for top college players seeking professional baseball careers, while providing affordable family entertainment. The Great West League plays from June-August spans over Oregon and California and is comprised of the Medford Rogues, Chico Heat, Portland Pickles, Lincoln Potters, Marysville Gold Sox and Yuba City Bears.