2019 Coaching Staff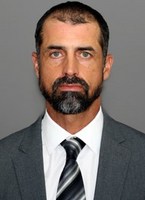 Sean Gallagher
Head Coach
E-mail:
Sean Gallagher joins the Medford Rogues for the 2019 season. Sean is a 1988 graduate of Goddard High School in New Mexico where he was 1st team all state as a catcher. He is a former Division 1 player at New Mexico State. He served time as an assistant associate scout in the Milwaukee Brewers organization before beginning his coaching career.

As a coach, Sean compiled a 106-37 record at St. Mary's High School in Medford Oregon. He was three times named Southern Cascade League Coach of the Year and was named Oregon Athletic Coaches Association coach of the year in 2017 after leading the Crusaders to a state championship. In 2018 Sean spent time at Davis and Elkins University in West Virginia where he was tasked as the hitting and pitching coach for the Senators.

Sean is the owner and operator of Gashouse, an indoor baseball facility in southern Oregon.