Coaching Staff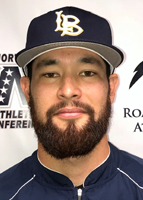 Mike Takamori
Assistant Coach
Coach Takamori is currently in his third season as a coach at Linn-Benton College, where he primarily works with their hitters while splitting time working with all the position players. In 2017, he helped Linn-Benton become the South Region Champions and advanced to the NWAC Tournament. Since being on the staff, they have sent 11 players on to four year schools.

A native of Corvallis, he attended Oregon State University while coaching baseball and basketball at his alma mater. He also played baseball at Linn-Benton in 2015, appearing in 44 out of 45 games where he posted a .398 OBP and a .640 OPS.

He is currently completing his Economics degree at Oregon State University.