MEDIA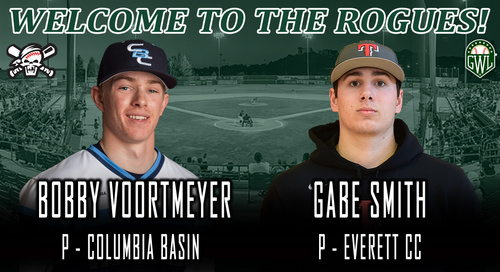 04/06/2018 12:11 PM
MEDFORD, Ore. – The defending GWL Champion Medford Rogues have announced the signing of pitchers Bobby Voortmeyer from Columbia Basin CC and Gabe Smith from Everett CC. Both pitchers play for the Northwest Athletic Conference.
Voortmeyer busted on to the scene during his senior year at Olympus High School. In 54.2 innings, Voortmeyer was 7-1 with a 2.82 ERA, struck out 62, and pitched two complete games. As a Hawk, Voortmeyer has been a workhorse. He's second on the team in innings pitched (59.2) and has compiled a 3.77 ERA with 41 strikeouts, including a complete game shutout on March 25th against the Olympic College Rangers.

Gabe Smith has been lights out for the Everett CC Trojans. In 28.2 innings, Smith has allowed just 16 hits and three walks with a 22:5 K:BB ratio and a 1.25 ERA. Smith is also 4-0 on the year and has picked up four saves. He has not allowed an extra base hit this season.
---
2018 single game tickets are on sale NOW! To keep up with all the latest team news and information, like the Medford Rogues on Facebook and follow us @MedfordRogues on Twitter and Instagram!
For more information about 2018 season ticket packages, flex packs, mini-plans, and single game tickets, call 541-973-2883 or visit www.medfordrogues.com/tickets/season-tickets