MEDIA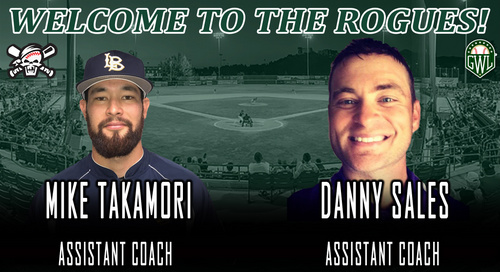 04/18/2018 3:48 PM
MEDFORD, Ore. – The defending GWL Champion Medford Rogues have announced the signing of coaches Danny Sales and Mike Takamori.
Coach Sales played college baseball at Mount Hood CC (2004-2006) and played summer collegiate baseball with the Kansas City Greys (M.I.N.K. League) and with the Niagara Power (NYCBL). After graduation, Coach Sales participated in spring training camps with a couple of independent league teams before retiring.
Upon his return to the state of Oregon in 2015, he began his coaching career where he has coached high school baseball and American Legion baseball. He is currently the Head Baseball Coach at South Eugene High School and was named the 2017 Southwest Conference (OSAA 6A) Coach of the Year. He was the head coach the Willamette Valley Titans American Legion team in 2017, previously coaching with the South Eugene Axe.
"I have a lot of respect for Tyler Graham and the Medford Rogues organization/front office. They run a well-oiled ship and I'm excited to become a part of that," said Sales.
Coach Takamori is currently in his third season as a coach at Linn-Benton College, where he primarily works with their hitters while splitting time working with all the position players. In 2017, he helped Linn-Benton become the South Region Champions and advanced to the NWAC Tournament. Since being on the staff, they have send 11 players on to four-year schools.
A native of Corvallis, he attended Oregon State University while coaching baseball and basketball at his alma mater. He also played baseball at Linn-Benton in 2015, appearing in 44 out of 45 games where he posted a .398 OBP and a .640 OPS.
"I'm excited for the opportunity to work outside of my comfort zone," said Takamori. "I can't wait to work for Tyler Graham, who played in the big leagues. I'm excited to bring what I've learned in my time at Linn-Benton to the Rogues."
Takamori is currently completing his degree at Oregon State University.
---
2018 single game tickets are on sale NOW! To keep up with all the latest team news and information, like the Medford Rogues on Facebook and follow us @MedfordRogues on Twitter and Instagram!
For more information about 2018 season ticket packages, flex packs, mini-plans, and single game tickets, call 541-973-2883 or visit www.medfordrogues.com/tickets/season-tickets