MEDIA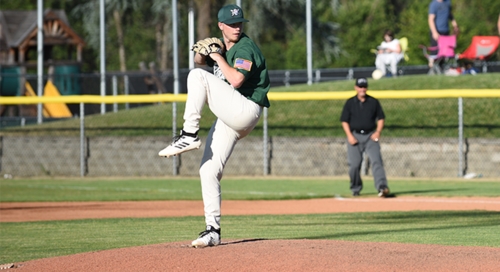 06/09/2019 8:56 PM
Article By: Jonathan Kurman
MEDFORD, Ore. – Grants Pass native Chris D'Amico (Presentation College) pitched a complete game to lead the Medford Rogues (10-0) to a 4-1 victory over the San Francisco Seagulls (4-4) on Sunday night at Harry & David Field.
Medford Rogues fans brought out the brooms on a gorgeous, sunny evening to watch their Rogues complete their third straight series sweep in the Golden State Collegiate Baseball League (GSCBL). D'Amico struck out seven and allowed just one earned run, which came on a bloop double down the first base line to Seagulls leadoff hitter John Murray in the first inning, who then scored on a passed ball.
"(My arm) is not feeling too bad right now, but we'll see how it feels tomorrow," said D'Amico after punching out seven over nine full innings. "I was just trying to keep the ball in the zone, and I knew these guys would get themselves out if I just threw it out over the heart of the plate. I was hitting my corners and I let my defense work…. I'm not too worried (about Top Speed Baseball). I know if we play our game, we'll put up some good numbers against them and it will be a good game."
Travis Danielson (Menlo College) doubled and scored twice; he was driven in both times by Pete Mendazona (Feather River College).
D'Amico is now 2-0 with a 1.80 ERA and a GSCBL leading 19 strikeouts.
The Rogues improve to 10-0, their best start and longest winning streak in franchise history.
The Rogues outscored the Seagulls 26-6 over the four-game series.
For the full box score: CLICK HERE
Your Rogues welcome the Yuba-Sutter Gold Sox back to Harry & David Field for a three game weekday series starting Monday. Gates open at 5:30pm, first pitch is at 6:35pm.