MEDIA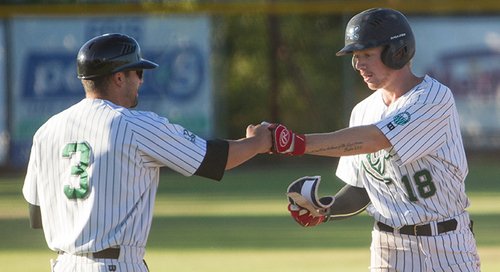 10/12/2017 4:30 PM
MEDFORD, OR: The Medford Rogues, the defending Great West League champions, announced today that Josh Hogan will not be returning to the Rogues in 2018 as he has accepted another coaching / front office opportunity with a different league.

Coach Hogan leaves the Rogues after winning the 2017 GWL championship. In his five years with the Rogues, Hogan went 168-121, including three postseason appearances.

"First, I want to thank Josh for his five years of service to the Medford Rogues Baseball Club," said Mike MacCulloch of CSH International. "We're excited to see a hard working individual like Josh receive the opportunity to further build on his baseball resume. He has proven to demonstrate the necessary qualities to succeed as a head coach, including his communication skills, preparation, passion, and attention to detail. We wish him all the best, and he'll forever be a part of Rogue Nation. "

This past summer, Hogan was named Manager of the Year in the GWL. He joined a league-leading 10 Rogues at the 2017 GWL All-Star game and was one of eight Rogues named to the 2017 All-GWL Team, also more than any other team in the league.

"Josh was the only summer baseball manager I've ever had," said Rogues alum and Ashland native Jamie Flynn. "He trusted me as an incoming freshman in 2013, and that trust paid off when we won the 'ship in 2017. The memories we have together, I will never forget. You'll see him at my wedding someday."

The Rogues are in the process of a nationwide search and hope to have an announcement shortly on a new manager.

---

To keep up with all the latest team news and information, "like" the Medford Rouges on Facebook or follow @MedfordRogues on Twitter.

Season Tickets are now available for the 2018 season starting at $199. For more information call 541-973-2883 or visit www.medfordrogues.com/tickets/season-tickets