MEDIA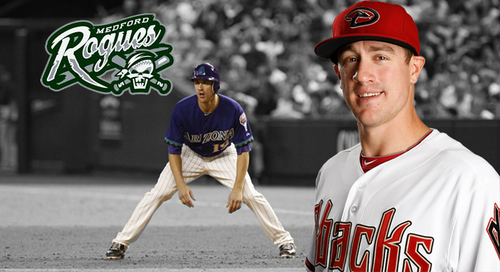 10/20/2017 8:29 AM
MEDFORD, Ore. -- The 2017 Great West League champion Medford Rogues announced that former big league outfielder Tyler Graham has been named manager of the club for the upcoming 2018 season. As the second manager with Major League Baseball playing experience in GWL history, Tyler will continue to serve as the Director of Player Development for Oregon State University's baseball program.

"After an extensive nationwide search, we're confident in finding the perfect individual to lead the Rogues in 2018 and beyond," said Mike MacCulloch, Consolidated Sports Holdings vice president of business and baseball operations. "Tyler brings everything we are looking for in a managerial candidate. He is a College World Series champion, an individual with extensive playing experience in professional baseball, a head coach at the summer collegiate level, and a very skilled recruiter."

Graham, a native of Great Falls, Montana, joins the Rogues after going 68-17 in two seasons as head coach with the Okotoks Dawgs of the Western Baseball League. He was selected in the 19th round of the 2006 MLB Draft by the San Francisco Giants after his career at OSU. He made his MLB debut with the Arizona Diamondbacks in 2012 where he appeared in 10 games. Graham finished his professional career in 2014 with 264 stolen bases and a .272 average with 21 home runs and 216 runs batted in.

"It's with great joy and excitement that I have accepted the honor of coaching the Rogues. I look forward to helping shape young men through the lessons of baseball and continuing to build a winning atmosphere that is fueled by the fans and great city of Medford," said Coach Graham.

An OSU alumnus, he is in his fourth season working with the Beavers baseball program and spent two years as an undergraduate assistant coach prior to becoming the Director of Player Development.

He lettered for Oregon State from 2003-06, where he helped guide the Beavers to a national championship his senior season. OSU also won back-to-back Pac-10 titles, in 2005 and 2006. Graham played in 151 games for the Beavers, batting .317 with 10 doubles, two triples, one home run and 51 RBI's. He also stole 39 bases, ranking tied for ninth in Oregon State history.

---
To keep up with all the latest team news and information, like the Medford Rogues on Facebook and follow us @MedfordRogues on Twitter and Instagram!

For more information about 2018 season ticket packages call 541-973-2883 or visit www.medfordrogues.com/tickets/season-tickets