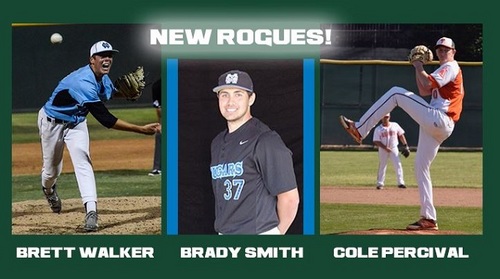 03/30/2017 2:55 PM
MEDFORD, Ore. – The Medford Rogues are pleased to welcome three right-handed pitchers to the organization. Cole Percival (Riverside Poly H.S.), Brett Walker (Clovis North H.S.) and Brady Smith (Cal State San Marcos) will be playing Great West League baseball this summer for the Rogues.

"We are looking forward to having these young, strong California arms join the Rogues squad," Medford Rogues Head Coach Josh Hogan said.
Cole Percival – Pitcher
Riverside Polytechnic High School (Calif.) senior Cole Percival will be gearing up for his college baseball career with the Rogues this upcoming summer. Percival, who is the son of former Major League pitcher Troy Percival, has verbally committed to play at University of California-Riverside, where his father is the head coach.
Brett Walker – Pitcher
As a current high school senior at Clovis North High School in Fresno, California, Brett Walker has committed to play baseball for the University of Oregon. Walker had a stellar junior season at Clovis North posting a 10-1 record with a 1.56 ERA and 66 strikeouts in 85 innings pitched. Walker is the younger brother of Matt Walker who is a redshirt sophomore pitcher at UCLA.
Brady Smith – Pitcher
A product of Riverside, California, Brady Smith is a redshirt-sophomore at Cal State San Marcos. Smith has tossed 14 1/3 innings for the NCAA Division II Cougars prior to an upcoming weekend series at CCAA opponent Chico State. Smith appeared in 10 games last season for the Cougars surrendering 13 hits while posting six strikeouts in 8 1/3 innings pitched.
Don't miss any of the action this summer! The Medford Rogues open their fifth season at Harry & David Field against the Yuba City Bears on May 30th.
Purchase your season tickets TODAY: CLICK HERE
Contact: Medford Rogues Baseball Club, Broadcast@MedfordRogues.com & (541)-973-2883.
ABOUT THE GREAT WEST LEAGUE
The Great West League is one of the premier summer collegiate wood bat leagues in North America, providing a professional, minor league-like atmosphere for top college players seeking professional baseball careers, while providing affordable family entertainment. The Great West League plays from June-August spans over Oregon and California and is comprised of the Medford Rogues, Chico Heat, Portland Pickles, Lincoln Potters, Marysville Gold Sox and Yuba City Bears.