MEDIA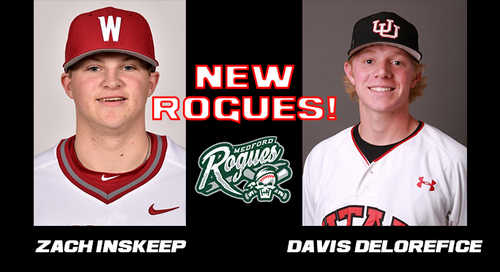 04/18/2017 2:00 PM
MEDFORD, Ore. – The Medford Rogues are excited to welcome two new Pac-12 ballplayers to the 2017 roster, Zach Inskeep (Washington State University) and Davis Delorefice (University of Utah).
Zach Inskeep -- Catcher
Native Oregonian Zach Inskeep will join the Rogues after completing his freshman season at Washington State. During his career at North Bend H.S. (Coos Bay, Oregon), Inskeep led the Bulldogs to four straight Far West League Championships. As a senior, Inskeep was named Far West League MVP along with earning First Team All-State and First Team All-League honors at catcher after hitting .507 with four home runs.
Davis Delorefice -- Infielder
After an exceptional career at Rodriguez H.S. in Fairfield, California, Davis Delorefice will play for the Rogues after a collegiate season with the Utah Utes. A two-time All-Monticello Empire League player, Delorefice hit .355 as a senior with nine RBI and six doubles going 15-of-16 in stolen bases.
Don't miss any of the action this summer! The Medford Rogues celebrate their fifth season of baseball at Harry & David Field, opening the 2017 season against Yuba City on May 30th. Purchase your season tickets today: CLICK HERE.
Media Inquiries:
Brian Schnee, Broadcast@MedfordRogues.com & (541)-973-2883
ABOUT THE GREAT WEST LEAGUE
The Great West League is one of the premier summer collegiate wood bat leagues in North America, providing a professional, minor league-like atmosphere for top college players seeking professional baseball careers, while providing affordable family entertainment. The Great West League plays from June-August spans over Oregon and California and is comprised of the Medford Rogues, Chico Heat, Portland Pickles, Lincoln Potters, Marysville Gold Sox and Yuba City Bears.