Rogues Front Office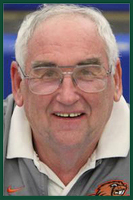 BG Gould
Director of Baseball Operations
The unofficial Mayor of Medford returns for his 11th season as the Official Scorer, Team Statistician, and Director of Baseball Operations for the Medford Rogues.
BG Gould has been involved in Medford sports since before any of our current Rogues players or front office staff were born. He spent 14 years as the Official Scorer with the Oakland A's Minor League team from 1986-1999. BG kept stats for the Medford Mustangs American Legion team from 1975-1986, 2016-Present, and for the Southern Oregon Riverdawgs since 2000. He has also worked for Medford School District since 1986, and is the current Director of Sports Operations at South Medford High School.
In 2006, BG Gould was presented with a Merit Award from the Oregon High School Baseball Coach's Association. In 2007, he was inducted into the Medford Sports Hall of Fame.
BG was named the Southern Oregon Sports Commission Sports Adovcate of the Year for 2017-18. BG was awarded the Oregon High School Coach's Association Community Service Award in 2019.