Rogues Front Office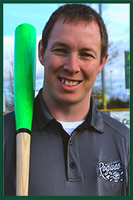 Dave May
General Manager / Owner
Phone:
541-973-2883
E-mail:
Dave enters his sixth season with the Medford Rogues, his fifth as the teams General Manager.

Dave began working for the Rogues as an Account Executive in 2016 and was promoted to Director of Sales in June 2017, and promoted to Chief Operating Officer November 2017. Amond his career highlights include being named the Great West League Exectutive Of The Year in 2018.

Dave, a Rogue Valley native has worked with many non-profits in the local community while working for the Rogues. Dave continues to oversee the corporate partnerships and season ticket sales. Dave also volunteers his time on the Medford Youth Baseball Society and the Southern Oregon Sports Commission.

He and his wife Tabitha have hosted multiple Medford Rogues players prior to taking his front office position. Dave was also youth baseball coach in Southern Oregon for a number of years.