MEDIA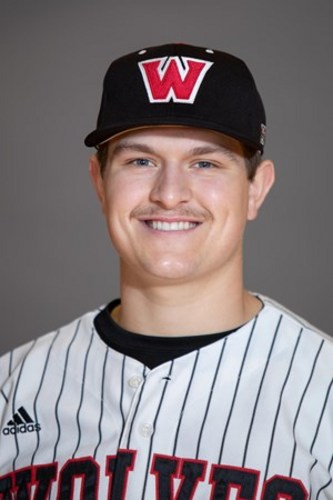 04/21/2021 2:37 PM
Article By: Rogues Media
April 21, 2021 – Medford, OR:
Only 50 days remain until the Rogues open. We have announced some returners, but how about a familiar local face who has had success for the
Crater Comets
and now a freshman RHP at Western Oregon....
Jacob Memmott.
Memmott arrived at WOU after playing his high school career at Crater High School in Medford. A three-year letterwinner, he earned the Team MVP after his sophomore season. During his freshman season, he tossed his first no-hitter and followed that up with the Team MVP honor his sophomore season after going 11-0 with a 1.01 ERA, taking home Second Team All-League and Rookie of the Year accolades. The team ended up winning the 5A State Championship. The team reached the playoffs his junior season, but he wasn't able to play most of the year due to injury. A multi-sport athlete, Memmott also excelled at football earning three letters at right tackle and kicker. Some of the team accomplishments include being the 2019 5A State Runner-Up (first time that the football team has even been to state). He earned First Team All-State tackle in 2019, First Team All-League kicker in 2018, Second Team All-League tackle in 2018 and honorable mention All-League tackle in 2017. Some other honors he earned include Rotary Student of the Month, Scholar-Athlete, Deans List and was a High School Salutatorian.
We asked Jacob what it meant to play in front of friends and family in southern Oregon and what he is most excited about. He said "The thing that most excites me playing for the Medford Rogues is being able to play in my hometown while also playing with and competing against guys from different colleges. I am really looking forward to getting out and competing this summer and further developing my skills as a baseball player."
Head coach for the GP Nuggets Jeff Weiss says "Jacob is a leader in the classroom, on the field and in the community. That is due to his hard work and the great family he has behind him. We knew when he was taking the mound for the GP Nuggets he was going to compete and keep us in every game he pitched. I am excited to see him compete for the Rogues against quality college players this summer.
---
To keep up with all the latest team news and information, like the Medford Rogues on Facebook and follow us @MedfordRogues on Twitter and Instagram!
For more information about 2021 tickets and Corporate Partnerships call 541-973-2883.