Coaching Staff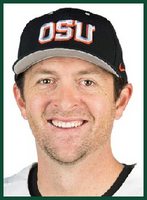 Bill Rowe
Head Coach
E-mail:
The 2023 season will be Coach Rowe's fourth season as the Rogues manager. Entering 2023 the Rogues are 80-35.

A native of Ashland, he played college baseball at UC Santa Barbara for three seasons and then transferred to Oregon State. While with the Beavers in 2006, he hit .341 with six home runs, 22 doubles and 56 runs batted in. He was selected to the All-College World Series team and batted .419 with four doubles, one home run and 18 RBI over 13 postseason games. The 18 RBI are the most ever by an Oregon State player in a single postseason.

Following his season, he signed with the Milwaukee Brewers and played one season of professional baseball, .279 with two home runs and 23 RBI in 2006 for Helena of the Pioneer League.

Rowe returned to Corvallis as an Undergraduate Assistant Coach in 2017 after spending ten years working in the movie and TV business. He spent the past six years working as an On Set Greensman for the show "Grimm" in Portland. He has also served as a baseball advisor for the "Twilight" movie in addition to "Calvin Marshall" where he was also an actor. Rowe was also an On-Set Prop Wrangler for the "White Knuckles" music video by the band OK Go. During his entertainment career, he has worked with Francis Ford Coppola, Val Kilmer and Steve Zahn, among others.