Coaching Staff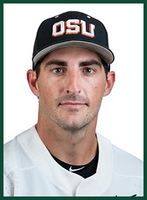 Parker Berberet
Head Coach
E-mail:
Parker Berberet was named Associate Head Coach of the Medford Rogues on October 9, 2019 and was promoted to the teams head coach in November 13th, 2022. Coach Berberet enters his 4th season with the Rogues in 2023.
An alumni of Oregon State University, Parker Berberet was an undergraduate assistant coach with the Beavers in 2019 and 2020.

He came to Oregon State in 2010 after two seasons at Cypress College. Berberet batted .281 as a junior, collecting 10 doubles, two home runs and 34 RBI. A year later, in 2011, he batted .259 with 12 doubles, two triples, five home runs and 39 RBI.

A native of Long Beach, Calif., he was taken in the 25th round of the 2011 MLB First-Year Player Draft by the Milwaukee Brewers. During his seven-year professional career, he played in 369 games, all in the Milwaukee Brewers organization, reaching as high as Triple-A in Colorado Springs. Berberet batted .246 during his career, tallying 62 doubles, five triples and 21 home runs. Drafted as a catcher, the Brewers converted him to a pitcher in 2017, and he posted a 2-4 record and 3.83 in 26 appearances, all in relief.
Parker is the owner of Southern Oregon Baseball Development with former Rogues Head Coach Bill Rowe. SOBD began in the fall of 2022.

Berberet and his wife, Jordan, have one daughter, Adley.