Coaching Staff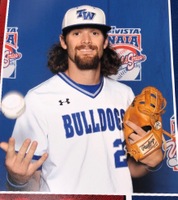 Corey Wynant
Assistant Coach
Coach Corey Wynant is entering his second season as a member of the Medford Rogues coaching staff.
Corey was born in Medford Oregon and graduated from Crater High School. (Central Point, Oregon) At Crater, Corey was a 4 year varsity starter. After he finished playing for the Comets Corey went on to play collegiately at Lane and Clackamas Community Colleges before transferring to Tennessee Wesleyan. Corey was a member of the 2019 national championship team.
Coach Wynant is entering his 4th season as an assistant coach at Crater where he works with the infielders and hitters.
Corey was a member of the inagural Medford Rogues team in 2013 and played again for the Rogues in 2016.
Corey is supported by his wife Sierra and his daughter Roenyn.