Coaching Staff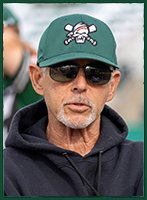 Norm Miller
Assistant Coach
Norm Miller played a decade in the major leagues, mostly with the Houston Astros.
Miller, born in Los Angeles, CA, signed with the Los Angeles Angels in 1964. He hit .301 for the Quad Cities Angels then was drafted by Houston after the 1964 season in the first-year player draft. He played most of the 1965 season with the Amarillo Sonics, hitting .289 with 20 home runs.
He made his major league debut in September of 1965 at age 19. Miller spent the next three seasons splitting time between the Oklahoma City 89ers and Houston before coming to the majors as a full-time player in 1969, the only year in which he had over 300 at-bats.
In the majors, Miller was mostly a right fielder, but also played a lot of left and center field with two appearances at each of third base and catcher. He had a measure of fame as the only player to score a run in the 24-inning 1-0 game on April 15, 1968 between the New York Mets and the Astros.

In 540 big league games, Norm hit .238 (359-1364) with 24 home runs.