Coaching Staff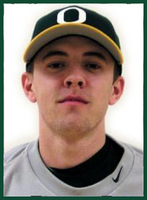 Tim Hegdahl
Assistant Coach
Coach Tim Hegdahl enters his 2nd season as a volunteer assistant coach.
He graduated from Ashland High School where he played basketball and baseball for the Grizzlies before moving on to earn a Sociology degree at the University of Oregon, where he pitched for the Ducks club baseball team.
After college, he earned an Associate's Degree (EMT-Paramedic) at RCC and volunteered with Jackson County Fire District 5. He also used this time to hone his fire and medical skills, working as an ER Tech at RRMC and a wildland firefighter with the Oregon Department of Forestry.
Tim was hired on at Ashland Fire and Rescue department in 2011.
He's even been credited on IMDB as an extra in the baseball-themed independent film "Calvin Marshall" (2007), shot on location in Ashland.