MEDIA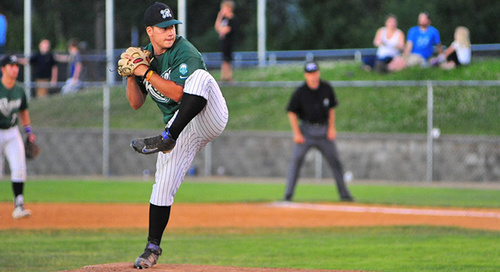 07/28/2017 9:23 PM
LINCOLN, Ca. – The Medford Rogues (37-14) defeated the Lincoln Potters (32-19) 13-6 on Friday night at McBean Stadium.
Johnny DeLaCruz (Louisiana-Monroe) got the scoring started in the top of the second inning with a solo home run to left-centerfield.
Later in the inning, Connor Lowrie (Blackhawk JC) singled to right field. Josh Berman (Clark CC) then hit a home run to the same spot as DeLaCruz's home run.
Lowire legged out an infield single with two outs in the fourth inning. Berman singled, which sent Lowrie to second base.
Caleb Smith (Linn Benton CC) delivered an RBI single through the left side of the infield to tie the game at four.
Jake Hellweg (Bethune Cookman) lead off the sixth inning with a double. He was brought home on the RBI single by Smith.
Jayden Hanna (Lane CC) walked, and Eric Yang (UC Santa Barbara) delivered a two-RBI single to give the Rogues the lead. Isola singled home Hanna to put the Rogues up by two.
The Rogues would score three more in the seventh, thanks to two Potters' throwing errors and an RBI single by Clay Valenzuela-Reece (Campbellsville), which scored Smith.
Two more would come home in the eighth for the Rogues on an RBI single by Lowrie and a sacrifice fly by Berman, which scored Isola and DeLaCruz.
Starting pitcher Dylan Pearce (Oregon State) went 5 innings and allowed six runs while striking out five, and earned the win.
Aaron Hutchinson (Lane CC) allowed just one hit in four scoreless innings in relief.
For the full box score: CLICK HERE