MEDIA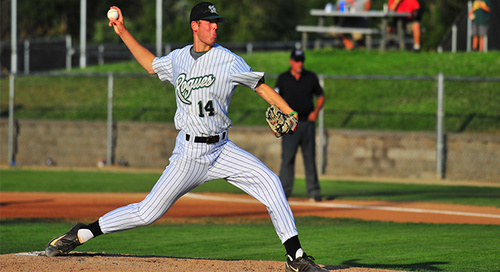 07/31/2017 9:10 PM
MEDFORD, Ore. – The Medford Rogues (38-17) fell to the Chico Heat (34-21) 6-2 on Monday night at Harry & David Field.
With temperatures reaching as high as 105 degrees, hydration and winning the ball game were the only things on both teams' minds.
Davis Delorefice (Utah) reached on an error in the first inning, and advanced to second on a comebacker hit by Eric Yang (UC Santa Barbara).
Alex Isola (Yavapai) hit a line drive double to the gap in left-centerfield to score Delorefice and put the Rogues on top early.
Jake Hellweg (Bethune Cookman) hit a opposite field ground-rule double down the left field line with one out in the fourth inning in a tied ball game.
Connor Lowrie (Campbellsville) singled to advance Hellweg to third, and Dante Gutierrez (University of San Diego) hit a sacrifice fly to center to give the Rogues the lead.
With the Rogues trailing by four in the bottom of ninth inning, Gutierrez and Clay Valenzuela-Reece (Campbellsville) singled, and Delorefice walked to load the bases. Unfortunately the Rogues were unable to bring the tying run home before the final out was recorded.
Starting pitcher Brett Walker (Oregon) scattered four hits and struck out five across five innings of one-hit ball, but had to settle for the no decision.
For the full box score: CLICK HERE