MEDIA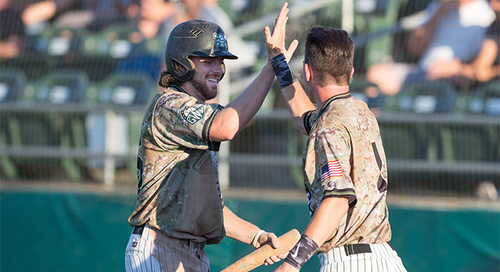 08/03/2017 10:00 PM
PORTLAND, Ore. - The Medford Rogues (39-19) lost to the Portland Pickles (30-28) 7-2 on Thursday night at Walker Stadium.
Jayden Hanna (Lane CC) walked to lead off the fourth, and Alex Isola (Yavapai) doubled to left-center field to advance Hanna to third. Dante Gutierrez (University of San Diego) put the ball in play to score Hanna, and gave the Rogues the first run of the game.
Pickles right fielder Zander Clarke led off the bottom of the fourth with a solo home run to tie the game, but the Rogues would answer in the fifth.
Braden Stutzman (Oregon) launched a solo home run over the right field wall to give the Rogues a 2-1 lead. That home run was Stutzman's first of the year.
The Pickles scored three more in the bottom of the fifth and would not relinquish the lead.
Isola and Stutzman both finished the game 2-4.
For the full box score: CLICK HERE