MEDIA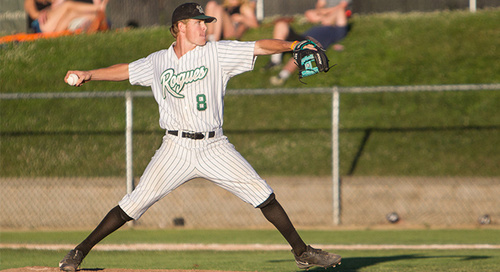 08/04/2017 9:18 PM
PORTLAND, Ore. - The Medford Rogues (39-20) lost to the Portland Pickles (31-28) 3-1 on Friday night at Walker Stadium.
Starting pitcher Scotty Wright (Colorado Christian) picked up right where he left off after his perfect game. He struck out the side in the first, and finished his night with five strikeouts through two innings.
Braden Stutzman (Oregon) doubled to lead off the third inning. Caleb Smith (Linn Benton CC) walked, and Clay Valenzuela-Reece (Campbellsville) singled load the bases for Dante Gutierrez (UC San Diego). Gutierrez drilled a ball down the right-field line, but it was caught on a diving catch by Pickles outfielder Matt Starkovic. Starkovic threw the ball back into the infield to double up the Rogues and end the inning.
The Pickles scored the first run of the game in the sixth inning on a one-out double by Tate Budnick and an RBI single by Bobby Kinne,
Bryce Tilton (Western Oregon) returned to the Rogues for this three-game series in Portland. He led off the eighth inning with a double.
Tilton advanced to third on the fly ball by pinch-hitter Jake Hellweg (Bethune Cookman), and scored on the sacrifice fly by Valenzuela-Reece to tie the game at 1.
The Pickles would answer with two more in the bottom of the eighth off the bat of Matt Hardy to give Portland the lead for good.
The Rogues pitching staff did not give up a walk.
For the full box score: CLICK HERE