MEDIA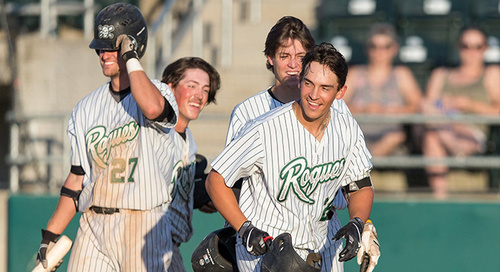 08/06/2017 7:40 PM
PORTLAND, Ore. - The Medford Rogues (1-0) defeated the Portland Pickles (0-1) 7-6 on Sunday night at Walker Stadium.
Johnny DeLaCruz (Louisiana-Monroe) legged out an infield single with two outs in the top of the first inning. Alex Isola (Yavapai) walked to advance DeLaCruz to second.
Jake Hellweg (Bethune Cookman) doubled to right-center field to score DeLaCruz.
The Pickles answer with one in the bottom of the second, a solo home run off the bat of Pickles Designated Hitter Matt Hardy.
In the top of the third, Isola sent a 2-0 pitch over the wall in right-center field to give the Rogues the lead.
The Pickles took the lead in fifth inning thanks again to Hardy, this time an RBI single.
Isola and Hellweg walked in the sixth before Dante Gutierrez (University San Diego) sent a 2-0 fastball over the right field wall to put the Rogues on top 5-3.
The Pickles answered with three runs of their own in the bottom of the inning to retake the lead 6-5.
Isola and Hellweg hit back to back singles with one out in the eighth. Connor Lowrie (Campbellsville) hit an RBI single up the middle to score Isola and advance Hellweg to third.
On the first pitch of the next at bat, Pickles catcher Tate Budnick threw down to third to try and pick off Hellweg, but the ball flew in to left field. Hellweg scored on the throwing error, which gave the Rogues the 7-6 lead.
With a runner on second base in the bottom of the ninth, Taylor Frost (Southern Idaho) struck out the final batter to win the game for the Rogues.
For the full box score: CLICK HERE