MEDIA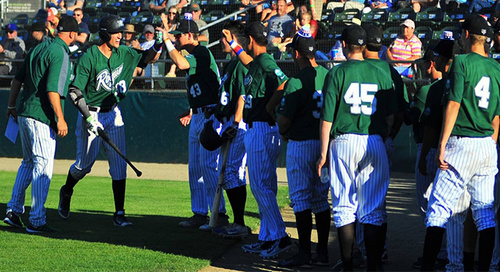 08/11/2017 9:20 PM
CHICO, Ca. - The Medford Rogues (1-0) defeated the Chico Heat (0-1) 5-3 on Friday night at Nettleton Stadium.
With two outs in the bottom of the second, Connor Lowrie (Campbellsville) hit a 1-2 fastball over the right field wall to start the scoring for the Rogues.
In the fourth, Alex Isola (Yavapai) crushed a 3-2 pitch to give the Rogues a 2-0 lead.
Terrific defensive plays by Davis Delorefice (Utah), Jayden Hanna (Lane CC), and Lowrie helped starting pitcher Jaiden France (San Jose State) keep the Heat off the board until the sixth inning. Three would come home against France as the Heat took the lead 3-2.
Braden Stutzman (Oregon) walked with one out in the seventh. Hanna rocked a ball to right field, the ball bounced off the Heat rightfielder Cole Lemmel's glove, which allowed the runners to advance to second and third.
Clay Valenzuela-Reece (Campbellsville) singled up the middle to score Stutzman, which tied the ball game.
On a wild pitch, Hanna scored the lead run and Valenzuela-Reece advanced to second.
DeLaCruz belted a ball to deep right-centerfield that bounced of Lemmel's glove for the second time in the inning, which allowed Valenzuela-Reece to score. DeLaCruz slipped as he rounded second, and was tagged out on the base path.
Taylor Frost (Southern Idaho) pitched a scoreless ninth inning for his second post-season save.
For the full box score: CLICK HERE