MEDIA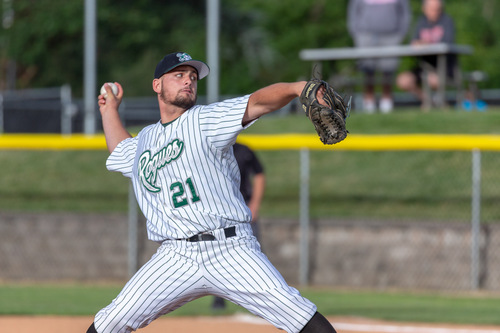 05/29/2018 10:35 PM
MEDFORD, Ore. – The Medford Rogues (1-0) defeated the Lincoln Potters (0-1) 10-2 on Tuesday night at Harry and David Field.
Joe Bath (Lewis Clark State) got the scoring started early with a huge two-out, two-run double in the bottom of the first to score Josh McIntyre (Fullerton JC) and Josh Congdon (Linn-Benton College).
In the bottom of the third, the Rogues had runners on the corners. Cole Carder (Linn-Benton College) took off for second base on the pitch to bait a throw from Potters catcher Isaiah Garcia, who took the bait. Fernlund, at third, took off for home on the throw. The throw to second sailed wide. Fernlund scored and Carder was safe at second.
With two outs in the bottom of the fourth, Carder hit another double to left field, scoring fellow Medford native and Linn-Benton teammate Tate Cowden (Linn-Benton College), and Chad Pike (IMG Academy), extending the Rogues lead 5-2.
The Rogues continued to capitalize on Lincoln errors when Carder scored on a misplayed ground ball by Potters shortstop Jae Woo Park later in the inning.
In the bottom of sixth, Cowden led off with a single and Pike was hit by a pitch. Carder then singled to drive home Cowden for the second time in the game.
With runners on the corners, Garcia tried to back-pick Carder at first, but the ball sailed into right field, allowing Pike to score, and advancing Carder to second.
Carder advanced to third on another wild pitch. McIntyre was then hit by a pitch. Yet another wild pitch advanced McIntyre to second and scored Carder.
McIntyre then scored on a ground rule double by Bath, who went 2-5 with two doubles and three RBI.
Starter Kolby Button (Linn-Benton College) was spectacular in his Rogues debut. He went seven innings, allowed just two runs on four hits, and struck out six in the win.
Full Box Score: CLICK HERE