MEDIA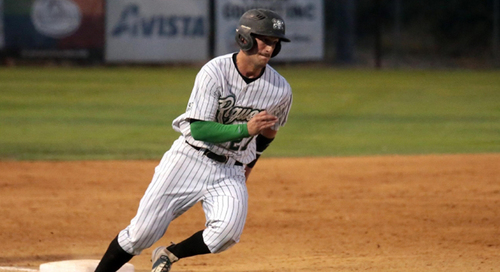 06/03/2018 9:29 PM
MARYSVILLE, Ca. – The Medford Rogues (3-3) fell to the Yuba-Sutter Gold Sox (2-2) 9-7 on Sunday night at Colusa Casino Stadium.
It was a back and forth affair that saw the lead change hands seven times.
Chad Pike (IMG Academy) walked in the first, and Josh McIntyre (Fullerton JC) doubled to right-center to drive in Pike for the first run of the game, but the Gold Sox answered back with a run in the bottom of the inning, and then scored two more in the second to take the lead.
In the third inning, McIntyre was beaned by a pitch for the second time in the series.
Mitch Neunborn (North Iowa Area CC), making his first appearance in the starting lineup as a DH, hit another two-run home run to left field, which tied the game at three.
Austin Healy (Shasta College) singled to lead off the fourth, Riley Kasper (Saddleback College) reached on an error, and Pike walked to load the bases.
Joe Bath (Lewis-Clark State) took a pitch in the back to push Healy across and gave the Rogues a 4-3 lead.
The Gold Sox scored two in the bottom of the seventh to re-take the lead 5-4. In the top of the eighth, last night's starting pitcher, Tanner Cantwell (Montana-State Billings), who was a last minute addition to the Rogues starting lineup today, hit a lead off home run that struck a power pole behind the right field fence.
Chase Fernlund (Feather River) was hit by a pitch for the fourth time this season, Pike walked again, and Eric Spencer (Shasta College), who came on to pinch hit for McIntyre, walked to load the bases.
Bath again was at the plate with the bases full of Rogues, and this time he laced one to left field to score Fernlund and Pike. Neunborn then laced one to left field, and Spencer was sent home from second, but the throw beat him to end the inning.
The Gold Sox scored four in the bottom of the eighth inning and sat the Rogues down 1-2-3 to end the game. Kolby Button (Shasta College) went 6IP, struck out 8, and gave up just two earned runs.