MEDIA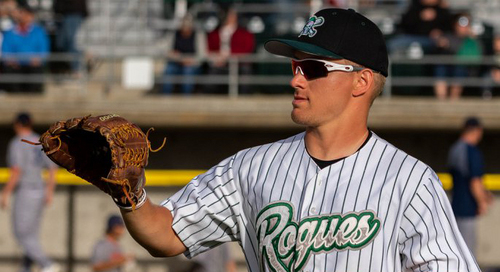 06/04/2018 11:25 PM
ALAMEDA, Ca. – The Medford Rogues (3-4) fell the San Francisco Seals (2-4) 5-4 on Monday night at the Pat Bail Field.
Riley Kasper (Saddleback College) hit a pop fly to right field to lead off the game. The Seals right fielder slipped and fell as he was charging the ball, which allowed Kasper to cruise into second with a double.
Chad Pike (IMG Academy) then doubled to left center to score Kasper. A wild pitch advanced Pike to third, and then Joe Bath (Lewis-Clark State) hit a soft grounder to first to score Pike.
Kasper and Pike connected again in the fifth. Pike singled to move Kasper over to third. Like the Rogues have done many times before, they put on the delayed double steal. Pike took off for second, and on the throw from the catcher, Kasper stole home.
Eric Spencer (Shasta College) made a spectacular play in center field to rob Seals right fielder Coby Eckstein of a base hit in the fifth.
The Seals tied the game in sixth, and then took a one-run lead in the eighth.
In the top of the ninth with one out, Tanner Cantwell (Montana-State Billings) hit is second double of the game. He was replaced by Nate Loranger (Clackamas) as a pinch-runner.
Daniel Nist (Cal-State Bakersfield) singled up the middle to score Loranger and tie the game.
With the count full and the bases loaded with two outs in the bottom of the ninth, Seals centerfielder Ryne Edmundson to a ball to win the game on a walk-off walk.
Bobby Voortmeyer (Columbia Basin) pitched very well in his second start in a Rogues uniform. He struck out six and held the Seals scoreless until the six inning.