MEDIA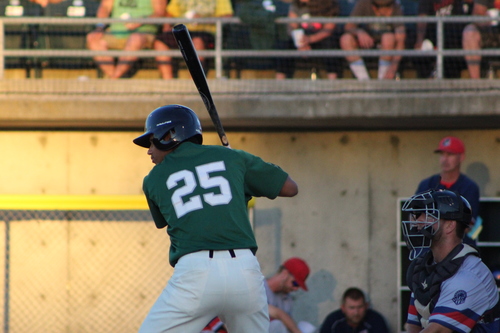 06/29/2018 9:44 PM
MEDFORD, Ore. – Free bases, fluky base hits and tying runs left on base in multiple innings late in both games lead to the Rogues dropping both games of the doubleheader. Tanner Cantwell (Montana State - Billings) had an extra base hit in each game.
In Game One, the Chico Heat were issued six walks. Two of the free passes came around to score, and two more drove in two runs with the bases loaded.
In Game Two, the bases were loaded for the Heat's hits leader, Parke Phillips. He hit a can of corn to right field, but it was lost in the sun by right fielder Tommy Ahlstrom. Two came home because of the mother nature double, and a third run came home on a wild pitch later in the inning.
Josh McIntyre (Fullerton JC) hit a two-run home run in the fourth inning. It awoken the Rogues bats, they put two in scoring position in the fifth, and Tanner Cantwell (Montana State-Billings) tripled and scored to lead off the sixth, but the Rogues failed to overcome the four-run fourth inning by the Heat.
Cole Carder (Antelope Valley) had his 14-game hitting streak snapped in Game Two of the doubleheader. However, Tanner Cantwell is now working on a ten-game hitting streak.
It was a terrific crowd on hand for the Rogues first home game in over a week. 1,509 enjoyed a gorgeous, sunny day in the mid 80's and five hours of baseball at Harry & David Field.
Tomorrow night is Military Appreciation Night. The Rogues will be wearing special Military themed jerseys, which fans can bid on during the game. 100% of the proceeds from the auction benefits Rogue Valley Veterans and Community Outreach. Military members who show valid Military I.D. will receive a free ticket to Military Appreciation Night.
There will be a special pregame ceremony, including a fly-over during the national anthem, so get to the ballpark early!
Seating is VERY LIMITED, so get your tickets now online at MedfordRogues.com.
For the full box score from Game One: CLICK HERE
For the full box score from Game Two: CLICK HERE
You can watch every pitch of every Rogues game this season online for free on TableRockSports.net