MEDIA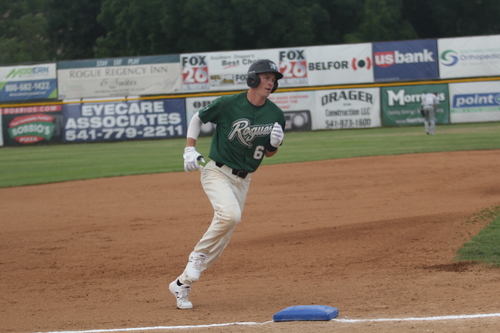 07/03/2018 8:52 PM
MEDFORD, Ore. – A lead-off home run by Cole Carder (University of Antelope Valley) and three-run home run by AJ Miller (University of Oregon, 2019) weren't enough as the Rogues fell to the Klamath Falls Gems, 12-6.
A Medford Rogues Great West League regular season record 2,447 were on hand for the game and post-game fireworks show.
The Southern Oregon Showdown will continue in Klamath Falls at Kiger Stadium on Wednesday and Thursday. First pitch for both games will be at 6:35pm.
The Rogues will return home to kick-off a weekend series with the Yuba-Sutter Gold Sox on Friday, July 6th.
This Friday is another KMVU Fox26 Fill the Park Friday. Fans can visit the following local businesses to pick up FREE tickets for the Rogues next home game on Friday, July 6th.
Mary's BBQ Place - 841 E. Pine Street, Central Point, (541) 727-7079
Mark-It 62 - 8380 Crater Lake Highway, White City, (541) 879-3065
Grange Co-Op - 2531 South Pacific Highway, Medford, (541) 772-4730
Arby's - 41 E. Stewart Avenue, Medford (541) 779-4294
For more information on KMVU Fox26 Fill the Park Friday: CLICK HERE
Saturday is Yoga on the Field and Paint the Park Pink Night at Harry & David Field. Join Rogues players, coaches, and staff on the field for yoga lead by Rasa Yoga Studios from 9:30- 10:30 a.m. On-field yoga costs $7, and all proceeds will benefit the Leila J. Eisenstein Breast Center! You can pay during registration that morning at 9 a.m. OR you can buy our Yoga + Ticket package online which allows you to participate in yoga AND go Saturday's game, Paint the Park Pink Night, for JUST $10!
We'll be painting the bases and foul lines pink, and our Rogues will be wearing special Pink jerseys, which will be up for auction during the game. 100% of the proceeds from the auction benefits the Leila J. Eisenstein Breast Center.
Tickets for Yoga on the Field and Paint the Park Pink Night are available HERE
For the full box score: CLICK HERE
You can watch every pitch of every Rogues game this season online for free on TableRockSports.net