MEDIA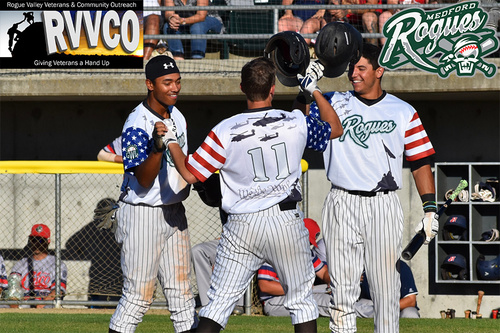 07/05/2018 2:59 PM
JULY 5, 2018 - MEDFORD, OR: The Medford Rogues and The Rogue Valley Veterans and Community Outreach are pleased to announce that $3,808.00 was raised through the sale of Rogues Military Appreciation Night Jerseys on Saturday, June 30th against the Chico Heat.
$3,410 was raised in jersey sales, and an additional $398 was raised in a 50/50 auction.
"It's easy to take for granted the support this community provides to local organizations," said Rogues COO Dave May. "But time and time again, this community and our fans step up when they're needed most. I and the entire Rogues organization are honored to be a part of yet another overwhelming successful fundraiser for the local non-profit organizations that do so much for the Rogue Valley."
Military Appreciation Night not only honored active and veterans of all branches of military, but also benefited the Rogue Valley Veterans and Community Outreach, a local non-profit organization that aims to assist Veterans in accessing the necessary supportive services, job training, and skill development for obtaining and maintaining employment and independent living.
---
The Rogues will host their third themed night, Paint the Park Pink, this Saturday, July 7th at 6:35 p.m. at Harry and David Field. Paint the Park Pink raises money for breast cancer research. Players will be wearing special pink jerseys, that will be auctioned off at the end of the night. All proceeds will benefit the Leila J. Eisenstein Breast Center. Tickets for Paint the Park Pink can be purchased HERE.
The Rogues are also teaming up with Rasa Yoga Studio for an on-field yoga session Saturday, July 7 at 9:30 a.m. Players, and members of the community will participate in an hour long yoga session which costs $7. A yoga and game ticket package is also available for purchase and includes one ticket to Saturday's game, and access to the yoga session for just $10! Purchase HERE.