MEDIA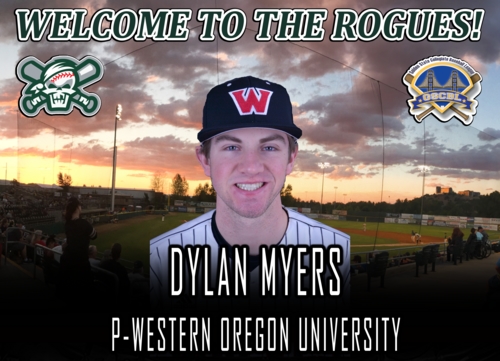 05/01/2019 6:56 PM
Article By: Isaac Fernandez
MEDFORD, Or -- The Medford Rogues have signed Oregon native Dylan Myers, sophomore pitcher from Western Oregon University. Myers graduated from Marist High School in Eugene, Oregon, where he was a four-year letter winner and helped lead his Spartan team to four straight playoff appearances.
Myers has been a quality arm out of the bullpen for the Wolves this season, amassing 3-1 record with a 2.76 ERA and 16:7 Walk:Strikeout ratio in 16.1 innings pitched. WOU became the destination for Myers because of the great baseball program and coaches. Myers is a business major with the ultimate goal of becoming a general manager for a professional sports team.
As a freshman, Myers made nine appearances out of the bullpen for the Wolves. He finished with a 3.38 ERA in 10 ⅔ innings of work where he struck out three and walked eight. Myers held opponents scoreless in six of his nine appearances. He pitched a season-high two innings against Lewis-Clark State where he held the Warriors scoreless with just one hit.
Myers enjoys eating BBQ chicken pizza and his favorite movie is Field of Dreams. His father Scott played baseball at Lassen Community College and in the Colorado Rockies and Miami Marlins farm system. He has a sister and two dogs named after ballparks: Camden, his sister, and his dogs Fenway and Yankee.
---
See Myers and the rest of the 2019 Medford Rogues play this season at Harry & David Field as they take on the Golden State Collegiate Baseball League. Single game tickets are on sale now, and available online at no additional cost. CLICK HERE to be taken to our online ticket portal.
The Golden State Collegiate Baseball League is a 8-team, wooden bat collegiate summer baseball league founded in 2012. The GSCBL is a showcase for top college-level players, giving professional baseball scouts a chance to see prospective pros playing against each other.
The GSCBL brings highly competitive collegiate baseball to mid-sized communities throughout the West while featuring affordable family entertainment. The GSCBL will have franchises in California (Alameda, Petaluma, Sacramento, San Jose, San Francisco, Yuba-Sutter), Nevada (Reno) and Oregon (Medford). These franchises are the backbone of the Golden State League and its foundation now and in the future. All teams affiliated with the GSCBL showcase some of the top talent in the country.