MEDIA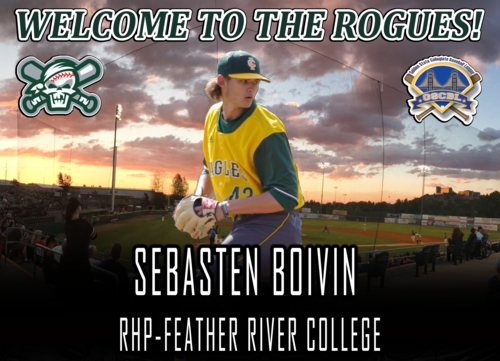 05/03/2019 11:23 AM
Article By: Jonathan Kurman
MEDFORD, Or -- The Medford Rogues have signed Central Point native Sebasten Boivin for the 2019 season. Boivin played for the 2017 Crater Comets team that went to the State Championship game. He currently goes to school at Feather River Community College.
Boivin has appeared in 13 games this season for the Golden Eagles, earning a 3-1 record with a 3.06 ERA and 15 strikeouts to just three walks in 17.2 innings pitched. Opposing hitters had just a .197 batting average against Boivin in 2019.
Boivin pitched a scoreless ninth inning and picked up the save for the Crater Comets in the 2017 State semifinals game against the Crescent Valley Raiders.
"Crater product and local talent, Sebasten Boivin is not a hurler but a true pitcher," said Rogues head coach Sean Gallagher. "I began working with him as a pitcher when he was 12 and there are not many kids that have worked as hard and had to overcome so many obstacles as he has during his journey to get to the next level. Lacking big time velocity, he has had to make pitching his craft. He has great control and command of his pitches and when he is sequencing properly is as tough on the mound and as hard a pitcher to square up on than any."
Boivin enjoys hiking, playing basketball, and snowboarding.
---
The Golden State Collegiate Baseball League is a 8-team, wooden bat collegiate summer baseball league founded in 2012. The GSCBL is a showcase for top college-level players, giving professional baseball scouts a chance to see prospective pros playing against each other.
The GSCBL brings highly competitive collegiate baseball to mid-sized communities throughout the West while featuring affordable family entertainment. The GSCBL will have franchises in California (Alameda, Petaluma, Sacramento, San Jose, San Francisco, Yuba-Sutter), Nevada (Reno) and Oregon (Medford). These franchises are the backbone of the Golden State League and its foundation now and in the future. All teams affiliated with the GSCBL showcase some of the top talent in the country.